Backpack-friendly breakfast and lunch boxes
Another busy morning in the village of Anbo near the trailhead of the trail that leads to the Jomon cedar. The storefront of the box lunch shop "Dekitate-ya2" (literally "freshly made-shop2") is crowded with vans driven by mountain guides. The vans are full of tourists excited about the hike ahead.
Dekitate-ya2 is located on the main road, in the Anbo shopping district. Ms. Megumi Okamoto makes about 500 lunch boxes a day during the busy season from March to November. "I only get about 3 hours of sleep a night during that time."
Megumi-san smiles when she tells me this. She runs "Dekitate-ya2" with her husband and their daughter. Her husband grills fish and cooks rice. Megumi-san prepares the ingredients and fixes all the side dishes. Their daughter handles all of the orders and deliveries. With great care and attention to detail, they prepare meals that will taste good even when they are cold.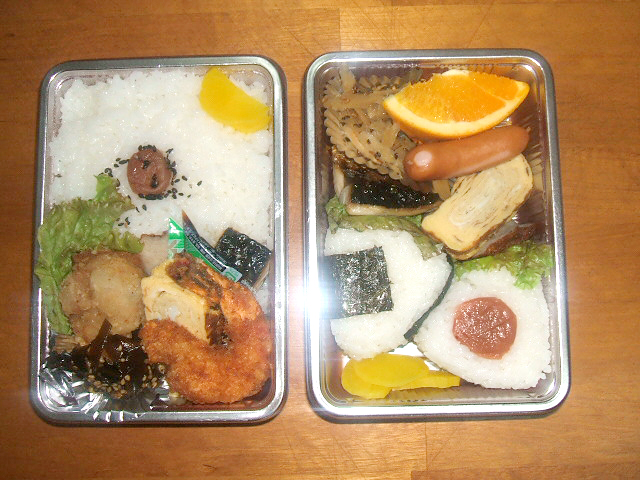 Hiker's Breakfast and Lunch Boxes 1,000yen
Hiker's Breakfast and Lunch Boxes have to be reserved in advance. These backpack-friendly meals have to be reserved by 8pm the day before and they can be picked up anytime after 4am the next morning. For those hikers – and guides – who want to get an early start, Dekitate-ya2 is a blessing. And they prepare an additional 50 box lunches for the general public. These lunches are popular among the islanders as well, so most will be sold out by noon.


Megumi-san is grateful for her family.
Megumi-san's greatest pleasure is to spend time relaxing with her family once a year. The Okamotos will both turn 68 this year. They're worried that they won't have the physical strength to continue this work much longer. But when they think of the tourists who come to Yakushima to enjoy its nature they re-tie their aprons, saying "Let's keep at it as long as our health holds out." And it is for this reason that in the busy season you can always find the Okamoto family making box lunches before the break of dawn.
Dekitate-ya2
108-1 Anbo, Yakushima Town
Kumage District, Kagoshima Prefecture
Telephone: 0997-46-3071
URL: www.minc.ne.jp/matumineso/newpage1.htm
Hiker's Breakfast and Lunch Boxes (1,000 yen)
Hiker's Lunch Box (550 yen and up)
Reserve above by 8pm the day before
Daily Lunch Box Special (550 yen)
Ladies Lunch Box (420 yen)