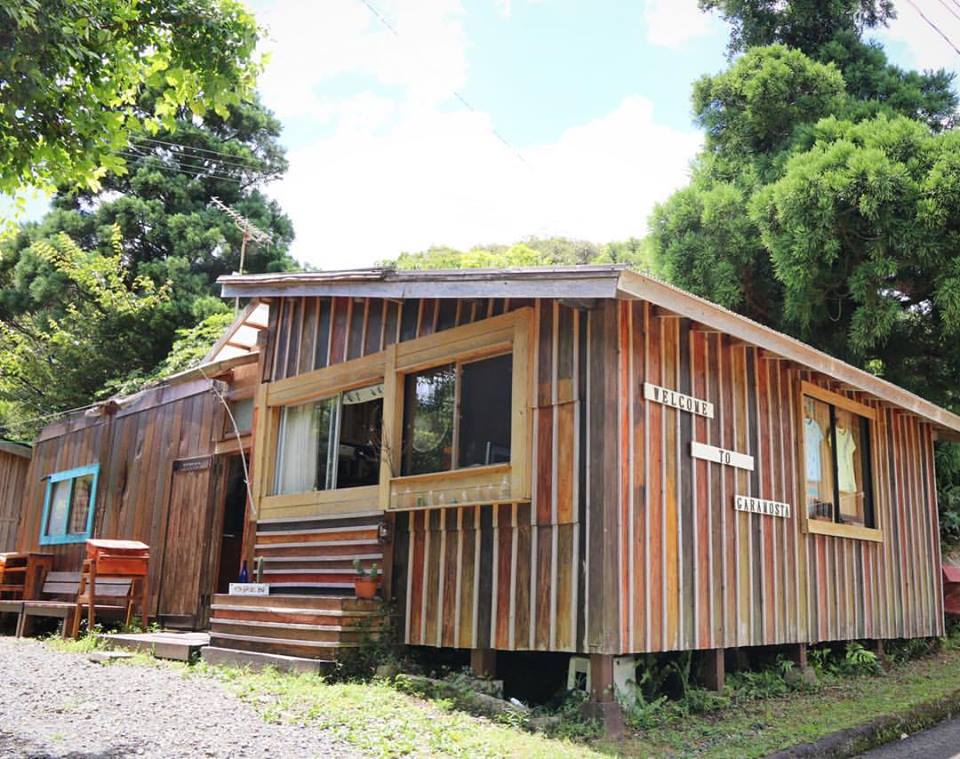 Soujiro Nakamura used to work in Tokyo but quit his job there when it became too stressful. He then visited his friend, a guide, in Yakushima. Mr. Nakamura stayed for one month, hiking in the mountains, swimming in rivers and enjoying a relaxing time. Without giving it a lot of thought, he decided to live on the island.
"I think I'll try living here."
Mr. Nakamura is now living with his wife, a cat called "Mya-ko" and a dog called "Kutsushita" (literally "socks"). He opened a t-shirt shop called "Garamosta" on the main road, part way up a hill, a little way out of town in the direction of Yakusugi Land.
The name "Garamosta" has no particular meaning. The sound just came to mind when Mr. Nakamura was drawing the shop's logo. He sells his own original t-shirts designed with motifs of the nature and life on Yakushima. Mr. Nakamura's first t-shirt was a colorful rendition of the old tram track, the long track hikers walk along on their way to the ancient Jomon cedar.
Mr. Nakamura hand-stamps the railroad ties, tracks and stumps on these t-shirts, so no two shirts are the same. In addition to this design, his raindrop t-shirts and Jomon cedar t-shirts are popular as well.


Mr. Nakamura has always liked making things. He likes working with wood and in the course of making little accessories, tables and chairs, a friend recently asked him to do carpentry work on the interior of his store. "Only good things have happened since I came to Yakushima. It's a strange place that grants people their wishes."
"I want to do something for Yakushima as well." Mr. Nakamura has been thinking about creating an amusement park. "I want the island to be a place where everything is possible – where people can play even on a rainy day, where they can interact with nature, and enjoy entertainment like in a big city." Since this mysterious island makes dreams come true, the day Mr. Nakamura's imaginings become reality may be close at hand.
Store Hours: 9:00AM – 7:00PM
Telephone: 0997-46-4707
http://garamosta.com