Hirauchi village, located on the south side of Yakushima, is warm most of the year. On the day I visit, the village is bathed in tranquil sunlight. I leave the main road and follow a narrow street toward the ocean until I come upon a fashionable building.
This is Ananda Chillage, a hotel and yoga studio. When I open the door I find a natural space with cedar floors and walls that make use of a combination of sand, seaweed and soil.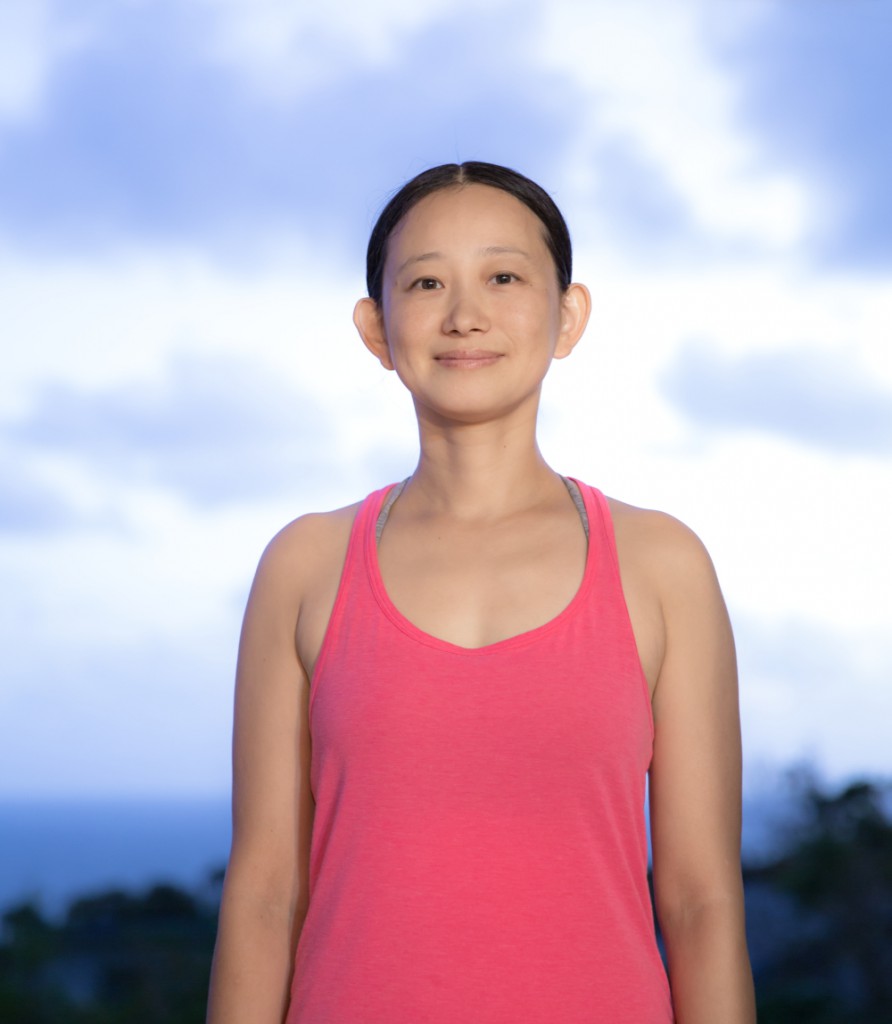 Miki Kunimoto stands at the other end of the room, in front of a large window with a view of the ocean, teaching yoga. In 2013, she said goodbye to her life in the big city and moved to Yakushima. Now, she and her 8-year-old daughter are living in Yakushima. Miki-san's husband, Shinji, shares his time between Yakushima and Tokyo, flying back and forth every month.
"We chose to live on Yakushima because of the island's nature and its clean, life-giving water."
When the Kunimotos were both living in Tokyo, they were looking for a place to live with the idea of relocating to a southern island someday. At that time, a friend who had already moved to Yakushima invited them to visit the island. They were drawn to the abundance of tasty water and to the island's mystical forests.
"Living in this rich natural environment and doing yoga, I feel that I'm returning to true human form." Ananda Chillage offers yoga classes every weekday morning. Miki-san, who gained her accreditation as a U.S. Yoga Alliance instructor in India, has a variety of other qualifications as well. She is also a macrobiotic instructor, a food coordinator, and a raw food instructor. Miki-san also studied Ayurveda, a mind-body health system.
"While every approach is different, I came to see that they were all connected. When I am mentally and physically at peace, I become conscious of the 'harmony of the yin and yang' and I feel more 'centered'."
In yoga classes, "ohm" is recited before and after each position. Though the voices may be disparate at first, over the course of a session they harmonize as one. Miki-san tells me she feels a harmony between people and nature here. I imagine it must be blissful to enter the ocean or forest after sharpening one's body and soul doing yoga and staying in the adjoining hotel.
"Here on the island, doing yoga and raising my daughter in this natural setting, every day is fulfilling." As the myth of life in the big city begins to crumble, people are finding a variety of ways to spend quality time and create lives that are particularly suited to their needs. One answer may be found at Ananda Chillage.
Written by Sanpo-tei, Rei Ogata
Ananda Chilllage
| | |
| --- | --- |
| add | 349-69 Hirauchi, Yakushima Township Kumage District, Kagoshima Prefecture |
| Telephone | 0997-47-3730 |
| URL | anandachillage.com |