Mai Shimizu sells hand-sewn, deerskin wallets and key holders in the village of Shidoko which is located on the north coast of Yakushima. This idyllic town is known for its dense and thriving, subtropical banyan tree windbreak and park.

Yakushika (literally "Yakushima deer") is a subspecies of Japanese deer that is native to this island. In response to heavy damage to local crops, a wild game meat processing center was founded. When Yakushika meat was processed, this then led to a new effort to effectively utilize Yakushika deerskin as well. Mai Shimizu, who had just started her own leather craft business, was approached in this regard. She and her husband had moved to Yakushima from Palau in 2013 to open a diving shop.
In addition to running Yakushima Diving Moguriya, Ms. Shimizu had just established her "ariga-to" brand for small leather products. The name "ariga-to" (literally "thank you") is an expression of her gratitude to animals that, when eaten, give us physical and spiritual energy.
Ms. Shimizu has learned from and collaborated with other talented artists on Yakushima and nearby islands. She makes use of great green turban and other shellfish buttons and beads procured from a fellow artist on Yakushima and has traveled to the Amami islands to learn other distinctive mud and indigo dying methods from specialists there.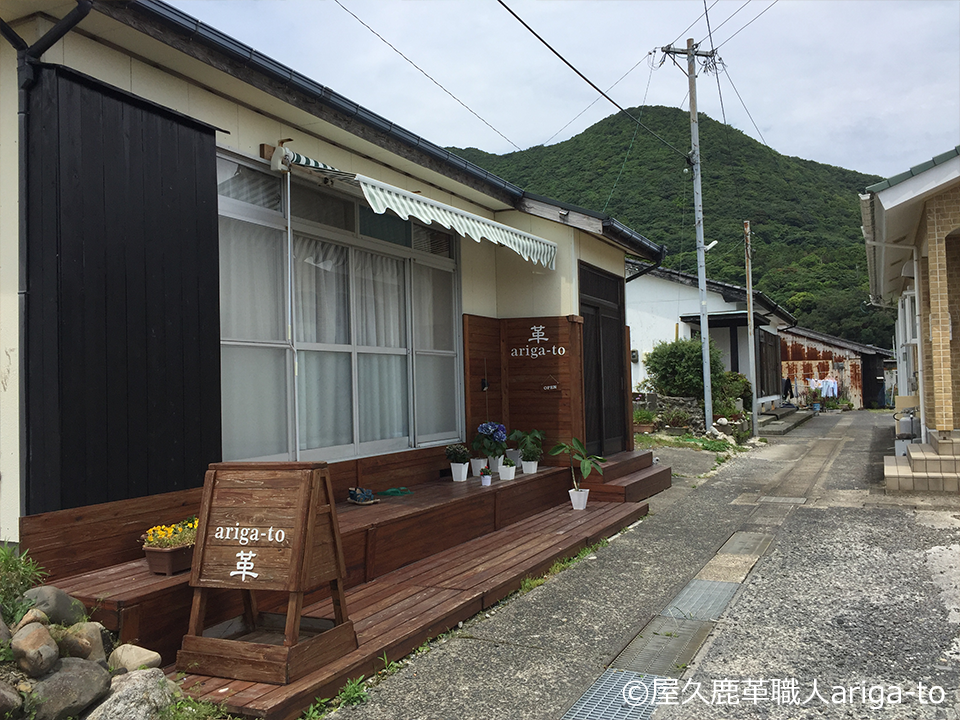 Now, more than half of her products are made using Yakushika deerskins. Wild Yakushika deerskins are not ideal material because they are small and tend to be heavily scratched. Nevertheless, Ms. Shimizu loves them for their pliability and texture. She also likes that they imbibe the vitality of a life spent running wild in Yakushima's forests.
Ms. Shimizu sells her leather products in souvenir shops and hotels on the island and also takes orders at her atelier. This summer, she plans to move her atelier to the neighboring village of Issou where new opportunities and challenges await her.
181-31 Shidoko, Yakushima-cho, Kumage-Gun, Kagoshima
HP:  https://www.facebook.com/arigato.yakushima/
SNS: https://www.ariga-to.com/
TEL: 080-5309-5213