In the spring of 2019, in Yakushima's southern gateway, in the commercial section of Anbo, Li Shirin opened Shimaumi Kitchen Seirios, the restaurant of his dreams. Li-san is from Dalian, a large city on the east coast of China. He renovated this one-time pub. He did the work himself, adding large glass windows to the front and creating an open, modern café space. In the back, there is a tatami area that is ideal for families or large groups.
After a childhood spent training for the Chinese Olympic swim team, he came to Japan to visit his father who was working at a Chinese restaurant in Tokyo. Ever since, Li-san has worked in the food industry.
In Tokyo, at the time of the 2011 earthquake and tsunami, he met Sayaka-san. They married and moved to Dalian where they managed a café and a ramen shop, but they came up against China's rigorous educational demands and when their children were ready to enter elementary school they decided to move to Yakushima, feeling that it was a better alternative.
Li-san and Sayaka-san's sons wanted to live in a place with "ocean, mountains and snow" so Yakushima was a perfect fit. Wanting to raise their children "surrounded by nature, where they could grow freely and easily," they moved to Yakushima in 2013. Everyone in the family had grown up in a large city so their move to the island was a big adventure.
The restaurant serves Chinese dishes, like dumplings, alongside Japanese seafoods, sashimi, tempura, edamame and fried potatoes that might be found in a Japanese pub. The multicultural menu makes good use of Li-san's experience, and the flying fish dumplings are a dish that he takes particular pride in. In Dalian, the birthplace of gyoza dumplings, they fill their dumplings with pork, lamb, seafood and a variety of other ingredients.
Anbo, the town where the restaurant is located, is a fishing port that boasts the largest annual flying fish catch in Japan. When the restaurant opened – and after a lot of trial and error – they served their own boiled gyoza dumplings that made use of minced flying fish meat. Three months after opening, at the request of their customers, they also started offering lunch specials. There is seafood and rice, spicy tofu and minced meat on rice, and a bread and salad option – in other words, Japanese, Chinese and western lunches.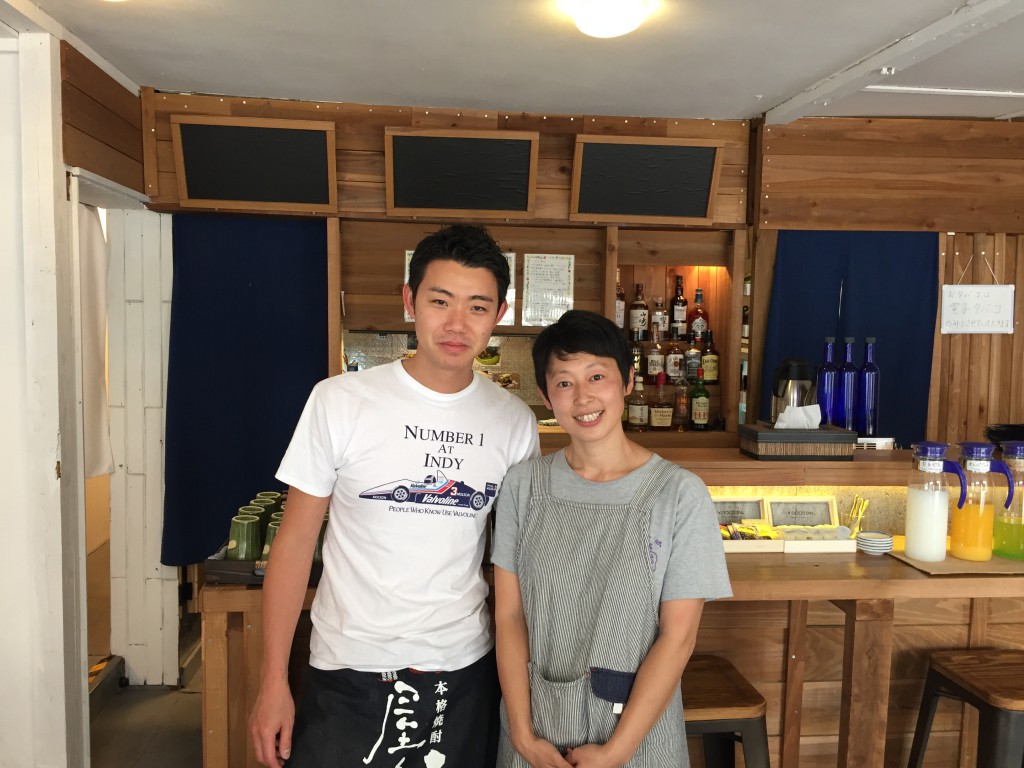 Through their children's school and their own interest in music, Li-san and Sayaka-san have made a lot of friends since moving to the island and they are greeted warmly by their friends when they come in for a meal.
This past summer – their sixth on the island and the high season for tourists – was as busy as ever.
Written by: Takata Mikako, Issou Coffee Editing Room
Shimaumi Kitchen Seirios
97-1 Anbo, Yakushima Township
Hours: 11:30 – 14:30 (last order) and 17:00 – midnight
Restaurant closes during parts of winter.
Telephone: 0997-46-3327