Kunimoto Shinji, editor and publisher of Saunter Magazine, spends half his time on Yakushima and the other half traveling in Japan and overseas. Kunimoto-san loves travel more than anything, and enjoys a fluid lifestyle. In that sense, he's a modern-day jet setter.
After working for the fashion magazine "WWD Japan" and the culture magazine "Studio Voice" he decided to set out on his own. While freelancing in advertisement marketing, production and editing, Kunimoto-san started his own magazine. He is now sharing a record of life on and off island, in keeping with the magazine's concept of "documenting the world's culture, nature and travel and accompanying this writing with beautiful photographs."
The first issue features "The Yakushima You Don't Know," "The Tibetan World of Ladakh, in India," and "Sierra Nevada's Ansel Adams Wilderness." The issue also includes a number of columns written by individuals with connections to Yakushima – the anatomist Yoro Takeshi, the musicians Shing02 and haruka nakamura, and Uchida Akira. In the course of creating the first issue, Kunimoto-san made use of past connections in some cases, and established new connections in others.
Art direction for the first issue was by Sasaki Hiromitsu, illustrations by Miyake Ryuto and photography by Kato Shotaro, all individuals whom Kunimoto-san had worked with before. With the hope that people in Japan and abroad will take an interest in the magazine, notations are in Japanese and in English.
The Kunimoto family's first visit to Yakushima was in 2011. Friends had already moved to the island which made finding a community all that much easier when they moved here. Yakushima was an ideal fit for the couple as they had dreamed of raising their children on an island. In 2013, Kunimoto-san's wife, Miki-san, who teaches yoga (and who also appears in Yakushima Time) and their daughter relocated to the island. Kunimoto-san continued to work for a company at the time and Miki-san opened a yoga studio and lodging called "ananda chillage."


In 2018, Kunimoto-san's work load on the island grew and he retired from his other work. "It was an adventure to start a new magazine but creating a team and the time spent putting the magazine together were a true pleasure." It's exciting to think of the new acquaintances and friendships that this magazine will inspire. And little by little, he has been able to spend more time with his family.
In the summer of 2019, at the Yakushima Airport and at the Gallery Tabira in Koseda, photographs were exhibited to commemorate the publication of the first issue. Original t-shirts, tote bags and Sierra cups were also sold. Kunimoto-san also promoted and sold the first issue at the Setouchi Art Book Fair in the fall of 2019.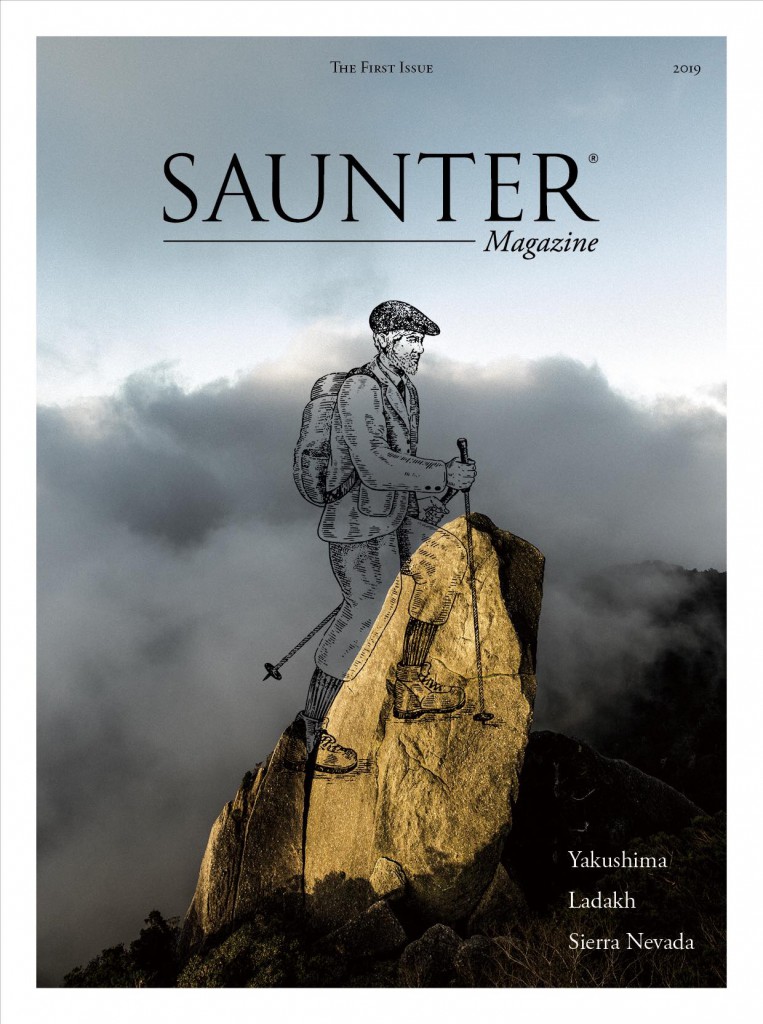 The first issue is currently on sale for 2700 yen (tax included) throughout Japan. The next issue is due to come out in the Spring of 2020.
Written by Takata Mikako, Issou Coffee Editing Room
Saunter Magazine
ananda chillage
349-69 Hirauchi, Yakushima Township
Kumage County, Kagoshima Prefecture 891-4406