"I'm drawn to Yakushima's students." Ms. Miwa Ueda, advisor to the drama club at Yakushima's only high school, smiles as she tells me this. The club had been on the verge of breaking up, but she led them to win a Kyushu-wide competition. Ueda-sensei came to Yakushima as a Japanese teacher three years ago. She had nearly two decades of experience instructing drama clubs at other high schools.
"Although high school drama clubs are generally in decline, I was quite happy to find one at this small high school here on Yakushima. When I arrived, the seniors had retired (to study for college entrance exams or consider their work options), and there was only one junior, so I made every effort to find new members."
Unable to attend performances by other high schools and often without a drama teacher, most island drama clubs are left to improvise, to develop their own practice methods. Before Ueda-sensei arrived on the island, whenever she saw crude performances by drama clubs from remote islands, she thought "Remote islands don't get a fair shake. If I'm assigned to work on an island, I want to provide them with a performing environment that is comparable to the mainland."
Ueda-sensei writes her own scripts and produces her own plays. "I wanted to take these students to a competition. And to do well there, I felt that I had to write something original and creative, something that could only be performed by the students of Yakushima high school. It is meaningless for an island drama club to pretend to be from the mainland. That's why I wrote scripts that were based here on Yakushima, based right here where they live." The first year, they came in second in Kagoshima prefecture. The second year, they were third in Kyushu and the high school drama club started to gain some recognition among the islanders. In the third year, when Ueda-sensei was looking for the subject of a new play, she learned of young people who had stood up to protect the island's natural environment in the past.
"I based my script on a true story about people who, in 1978, in an effort to prevent environmental destruction, spent 7 million yen to make a documentary film and to screen it nationwide. The documentary made use of a song by John Denver, a country musician famous for his song 'Country Road.' Young people on Yakushima wrote a letter to John Denver asking permission to make use of his song, for free, and he granted their wish. I was drawn to this mismatch between an unknown Japanese island and this famous musician in America. I thought this could be the theme of the play and that it could only have one title, 'A letter to John Denver.' That was it."
But even with a good script, without a good performance there was no hope of going to the top. "We practiced hard. Students who had started out with basic speech training, improved steadily."
Ueda-sensei is forever surprised by the dedication of the island's students. "Members of the drama club and other students at this high school are somehow different from the students I've encountered at other high schools. They are only interested in the truth. They're modest and unaffected. They remain calm in any setting, and dignified. I think this may come from the example that is set for them by the island's unassuming natural environment."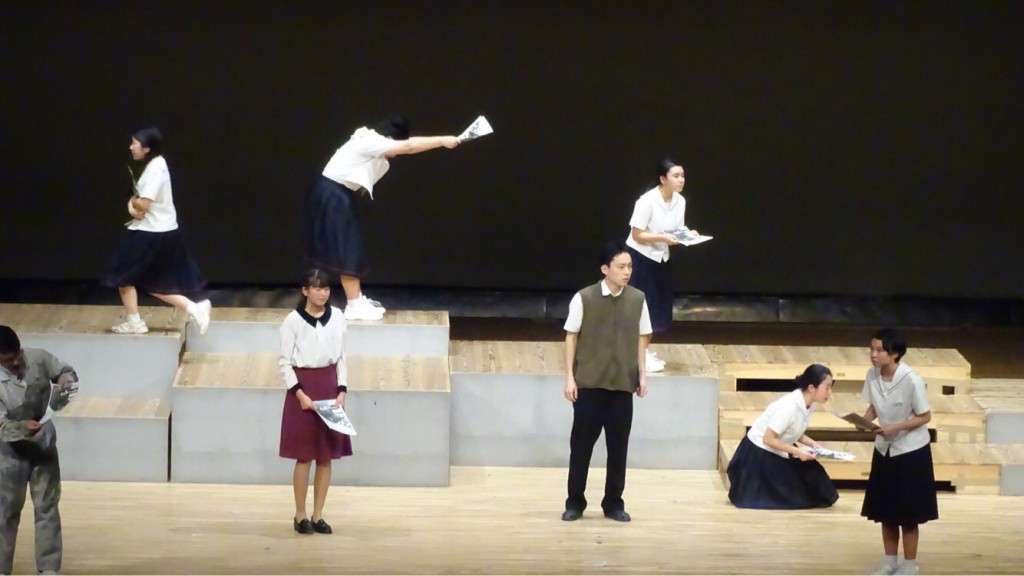 Last December, "A letter to John Denver" won first prize in the Kyushu competition. This entitles them to participate in a national competition, an honor enjoyed by only 12 of Japan's 2100 high schools with drama clubs. The national competition will be held in Tosu, a city in Saga prefecture, in July 2019. The students have a lot of work yet to do as they prepare for it.
Once, before coming to Yakushima, Ueda-sensei's script "Toshidon after school" gained acclaim in a Kyushu-wide competition, and she enjoyed a moment of fame among high school drama clubs in Japan. But many years passed and she was unable to write anything that surpassed that script and was unable to compete at the national level. "A part of me was satisfied to have had one play that was widely recognized, but I cried when I heard that the Yakushima high school had won the Kyushu competition and I realized that I'd been wanting to go to the national competition all along. Yakushima's students made a dream I'd nearly given up on come true."
Located between tall mountains and a sparkling ocean, Yakushima high school is at the heart of a small drama of its own, a drama that continues to unfold. Ueda-sensei told me, "Art can't be produced by one person working entirely alone. The island's nature collaborates with the students here, each influencing the other to create something unique."
Written by Sanpo-tei, Rei Ogata
Yakushima High School